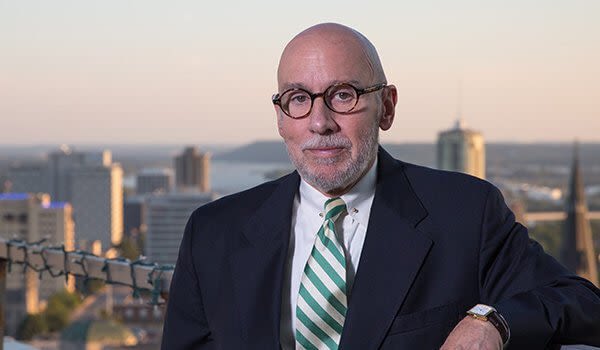 LAURENCE L. PINKERTON
My name is Larry Pinkerton, and I've successfully practiced business law for more than 40 years with a pointed emphasis on securities fraud and antitrust matters. I graduated from Columbia University Law School in 1976, and I am a Master Emeritus in the American Inns of Court, an AV® Preeminent (five-star) rated lawyer at Martindale-Hubbel, and a Super Lawyer. I also served as a captain in the United States Air Force and obtained a Master of Arts in Economics during the time.
I take great care and diligence in creating effective discoveries, favorable depositions, strategic settlements and excellent trial performances for each of my clients.
EXTENSIVE RECORD OF SUCCESS
In my four decades of practicing business law, I've won an eight-figure and three seven-figure jury verdicts, and I've defended both large national and local clients, such as Wal-Mart Stores, Inc., Williams Companies' affiliates and officers, and Urban Financial Group, Inc., the third largest reverse mortgage originator. I've certified classes in state and federal courts, defended against large class actions, won and successfully defended large derivative suits, and effectively prosecuted and defended appeals in state and federal circuit courts, e.g. Brady v. UBS Financial Services, Inc. 538 F.3d 1319 (10th Cir. 2008); and Farley v. Henson, 11 F.3d 827 (8th Cir. 1993). I've also won a seven-figure arbitration award and acted as a NASD arbitration panel chairman. See more Past Results.
SERVING MY NATIVE STATE OF OKLAHOMA
As a native of Oklahoma, I've kept myself well-connected within the business legal community. I am admitted to practice in Oklahoma trial and appellate courts, numerous federal district courts, and the United States Courts of Appeals for the Third, Eighth, and Tenth Circuits.
As a boutique litigation practice, my firm, Pinkerton Law, P.C., offers a broad range of legal services in civil practice areas. Located in the heart of downtown Tulsa, the firm represents individual and business clients throughout Oklahoma and Western Arkansas. I also serve as local counsel and co-counsel for other law firms and routinely accept litigation referrals.
CLIENTS I'VE REPRESENTED
Wal-Mart Stores, Inc.

The Williams Companies

Safeway Inc.

Urban Financial Group, Inc.

Klienco Properties, Inc.

Glazer's Wholesale Drug

Union Pacific Resources Company

Westinghouse, Inc.
PRACTICING IN THE FOLLOWING JURISDICTIONS
Oklahoma state trial and appellate courts

United States District Courts for the Northern and Western Districts of Oklahoma

United States District Court for the Western District of Wisconsin

United States District Courts for the Eastern and Western Districts of Arkansas

United States District Court for the Western District of Michigan

United States District Court for the District of Kansas

United States District Court for the Northern District of Illinois

United States District Court for the District of Utah

U.S. Court of Appeals, Tenth Circuit

U.S. Court of Appeals, Third Circuit

U.S. Court of Appeals, Eighth Circuit